Can you use the SpeechMike Premium with Dragon Medical One? Of course you Can!
The SpeechMike Premium takes dictation to a new level. May it be the free-floating studio quality Precision Microphone, a microphone grille with optimized structure, built-in noise-reduction pop filter, hygienic surface or the motion sensor – the SpeechMike Premium sets the new standard!
Dragon Medical One supports most of the buttons on the LFH3500/00 and are customizable.
Ten of the buttons can be reprogrammed to one of the following commands inside of dragon, the left and right moues buttons are fixed. Two buttons that cannot be reprogramed are the – i – and F3
Can I change the defaults on the SpeechMike Premium with Dragon Medical one?
Yes, you can. Not only that you can even assign Step-by-step commands to those buttons if you wish, so the options are nearly limitless.
To do that, in the DragonBar click on the Dragon Menu, and choose options. You can also use a the voice command to access this menu to save a few clicks
Open Settings

Open settings is the voice command to access the settings menu
Once in the options menu you need to navigate down to the Microphone Buttons.
Tip: If you don't see the Microphone Buttons menu make sure your SpeechMike is selected in Dragon and properly connected to your computer.
Once done you should see the options screen listed below.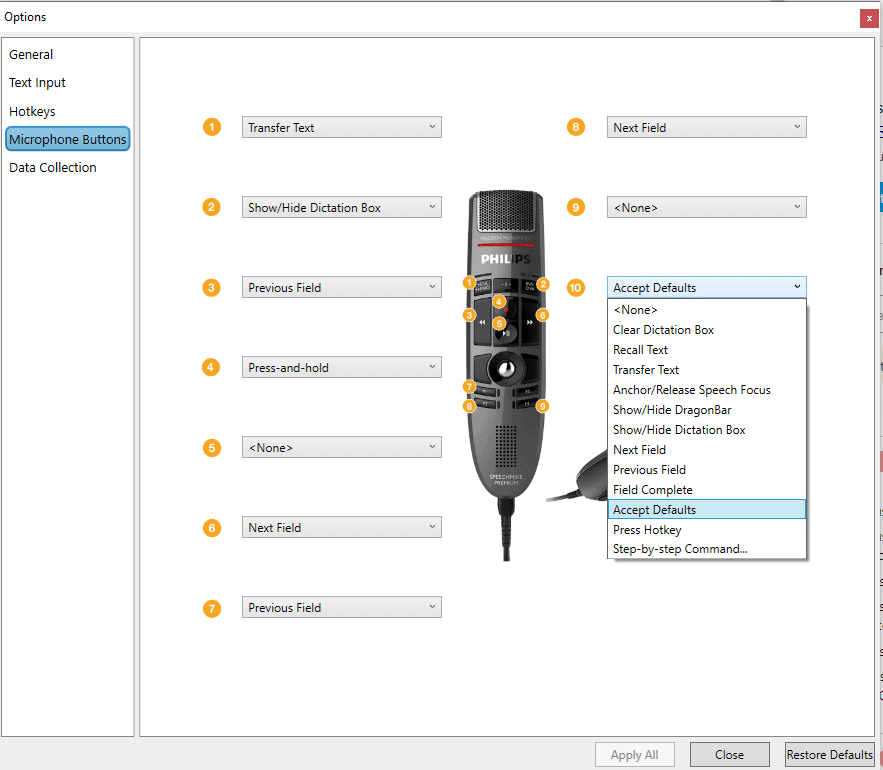 From here you can assign any of the ten programmable keys to a Dragon Functions.
The programmable functions you can access are:
<none> – Disable the button
Clear Dictation Box
Recall Text
Transfer Text
Anchor/Release speech focus
Show/Hide Dragonbar
Show/Hide Dictation Box
Next Field
Field complete
Accept Defaults
Press Hotkey
Step-by-step Command…
The SpeechMike Premium remains a valuable companion with Dragon Medical One, even with the PowerMic Mobile the recording quality of the SpeechMike is superb